Then there was


Which was Canadian, btw

There's this police detective, see. Always working the night shift. And he was good. Really good.


Because new cases tend to remind him of old cases and he's had a lot of experience to help him out



He has a partner. Who is not quite as bright, but great backup!


And willing to overlook his weirder quirks

He drives this car. Because trunk space is key.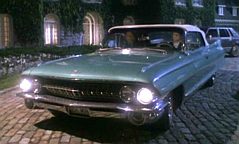 He's trying to change, though. Get his life going in a different directiomn. Get out of a rut. There's this girl he kinda likes



But his family disapproves of all this



Relationships are complicated, you know.


Really complicated



So there it is- Cop show. Buddy show. History show. Soap opera. Romance. Horror. Canadian.